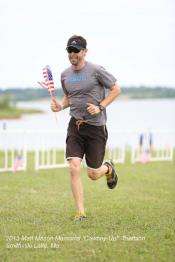 Dr. Murphy was a graduate of Logan College of Chiropractic in December of 2000.  Prior to chiropractic school, he completed his 2 year degree at Southwestern Community College and received his B.S. in biology/psychology at Northwest Missouri State University.  He played baseball for 2 years in junior college and 2 years at Northwest.  Throughout his high school years, Dr. Murphy played football, basketball and baseball and dealt with sprains/ strains, tendonitis and bursitis, so he knows what it is like to deal with injuries.
Dr. Murphy, since graduating from chiropractic school has helped JV baseball team at Lutheran South for 2 years.  He was the team physician for 3 years at Pacific High School football team traveling every Friday night to attend to injuries with the team.  Then Dr. Murphy worked with Missouri Baptist University for 2 years treating athletes ranging from volleyball, basketball, baseball, track, softball, to wrestling. 
Dr. Murphy's love for running started 8 years ago.  He has ran 5 marathons, 20 plus half marathons and many other races that inculde two 50-mile races.  Dr. Murphy knows running and understands runners.  It does not matter what level of a runner someone is, runners deal with the same issues and Dr. Murphy has the background to get people back on track.